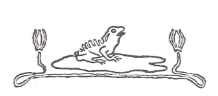 J@rgonia
J@rgonia is an electronic, peer-reviewed open access journal that publishes scholarly articles concerning ethnology, history and related fields. It was established in 2003 by the Department of History and Ethnology (Hela) at the University of Jyväskylä. J@rgonia is published by Historian ja etnologian laitoksen tutkijat ry (Registered Association of Hela Researchers), established in 2009. Our journal is ranked on the Finnish scientific Publication Forum (level 1).
J@rgonia is published twice a year. Its main scope is to publish articles written by postgraduate students studying culture, history and folklore or related fields. Articles are published in Finnish and in English. English-language translation and/or proofreading is the sole responsibility of the author. The editorial board is responsible for editing content only, and will return to authors manuscripts whose language does not meet J@rgonia's standards, asking them to have the language checked before resubmitting the article. Every article goes through a double-blind referee-process, in which two anonymous readers read and comment on the article before publication. The reviewer and author identities are concealed from each other throughout the review process.
We kindly ask referees to include one of the following recommendations in their statement:
Publish in its current form
Publish after minor revisions (with required correction as an attachment)
Publish after major revisions (with required correction as an attachment)
Reject the article
Evaluation is based on the following criteria:
Does the article include proper research question and relevant context(s)?
Does it include proper theoretical and methodological framework and their application on the analysis?
Is the article relevant, novel and original? Does it add something new to its field?
Does the article meet the standards of peer-reviewed journal article including good language and clear structure with sufficient amount of subheadings?
The editorial board of the publication reserves the right to evaluate and decide which articles will be published, based on the referee statements.
J@rgonia does not have article processing charges (APCs) or article submission charges. Works published in J@rgonia are licensed under a Creative Commons Attribution 4.0 International License.
If you are interested in offering an article to be published in J@rgonia, please send an abstract of 400 words or a manuscript formatted with Chicago Manual of Style to Editor-in-Chief, Mr. Konsta Kajander (konsta.p.a.kajander@jyu.fi).
Editor-in-Chief
Konsta Kajander (Ethnology)

Department of History and Ethnology
P.O. Box 35 (H)
FI-40014 University of Jyväskylä
tel: +358 50 523 1513
konsta.p.a.kajander(at)jyu.fi


Editorial Board (from August 2015)
Henna Karppinen-Kummunmäki (Cultural History, University of Turku)
Olli Kleemola (Political History, University of Turku)
Karoliina Kouvola (Study of Religions, University of Helsinki)
Henrik Mattjus (History, University of Tampere)
Anna Niiranen (History, University of Jyväskylä)
Sanna Tawah (Ethnology, University of Jyväskylä)