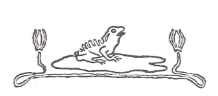 J@rgonia on vuonna 2003 perustettu etnologian, historian ja niiden lähitieteiden aloilla toimiva vertaisarvioitu elektroninen julkaisu. Se ilmestyy kaksi kertaa vuodessa, keväällä ja syksyllä. J@rgonia on tarkoitettu kulttuureja, historiaa ja perinnettä tutkivien tohtoreiden ja jatko-opiskelijoiden julkaisukanavaksi.

Tuorein numero
J@rgonian nro 23 sisältää Teemu Häkkisen lektion, Anna Niirasen arvion Petteri Pietikäisen teoksesta Hulluuden historia (2013) sekä Johanna Harjunpään arvion Helinä Rautavaaran museon näyttelystä Guadalupen ihme.

J@rgonia vol. 12, nro 23 (2014)
Britannian parlamentti päättämässä asevoimien käytöstä: Lectio praecursoria 1.2.2014
Teemu Häkkinen
Viittaa julkaisuun pysyvällä osoitteella http://urn.fi/URN:NBN:fi:jyu-201405221789
Hulluuden ja epätoivon hallinnan historiasta: Arvio teoksesta Pietikäinen, Petteri: Hulluuden historia. Helsinki: Gaudeamus 2013. 456 s.
Anna Niiranen
Viittaa julkaisuun pysyvällä osoitteella http://urn.fi/URN:NBN:fi:jyu-201405221790
Ihmettä katsomassa – etnografinen näyttely Guadalupen Neitsyt Mariasta
Johanna Harjunpää
Viittaa julkaisuun pysyvällä osoitteella http://urn.fi/URN:NBN:fi:jyu-201405221791
J@rgonia vol. 11, nro 22 (2013)
A tipper full of skinned limbs: Fiction and the Northern Ireland Troubles
Jyrki Ruohomäki
This article discusses the potential of a fictional story, a novel, to challenge political narratives in a divided society. I will analyse three novels set during the "Troubles" (1960s-1998) in Northern Ireland, looking at the ways in which each novel navigates the narrow space between Northern Irish unionism and nationalism, the two dominant narratives in Northern Ireland.
I will read the novels politically, interpreting them as rhetorical narratives holding the power to challenge commonplace assumptions. I will apply the ideas put forward by James Phelan concerning the inherent rhetorical nature of narrative in fiction. I will also present Ann Rigney's concept of cultural memory as an analytical tool for analysing the way in which memory and history have been politicised and how the material analysed offers a critique of that politicisation. I will contextualise the novels in the political, cultural and historiographic debates and political transformations in Northern Ireland.
The article concludes that the three novels all seek to challenge and question the political narratives of Northern Ireland profoundly. They engage in a rhetorical act through which commonplace assumptions about the political conflict in Northern Ireland, its premises and its solutions, are presented in a new and challenging way.
Viittaa julkaisuun pysyvällä osoitteella http://urn.fi/URN:NBN:fi:jyu-201311272669
Hermetic Roots of Marsilio Ficino's Anthropocentric Thought
Lauri Ockenström
Marsilio Ficino's relationship to the Hermetic literary tradition has long been a controversial issue in academic discussion. Although Ficino is commonly known as a translator and keen reader of the philosophical Hermetica, his allegiances to the Hermetic ideas have been recognized only in his theory of magic (only to be denied later), while in other cases, in general, scholars tend to deny the impact of Hermetic writings instead of accepting it. This paper explores a topic in which the denial has been particularly harsh, namely Ficino's Promethean philosophy of man, highlighted as the most influential achievement of his thought by previous generations (e.g. by Trinkaus). Despite the neglect, there seems to be some evident convergence worth researching between Ficino's anthropocentric passages and the philosophical Hermetic sources. The comparative analyses may illustrate how Ficino applied Hermetic concepts and vocabulary to construct his anthropocentricism and utilized the name of Trismegistus to support his man-oriented ideals, which were to have a considerable impact on European thought during the following centuries. Furthermore, there are reasons to suggest that the inspiration and reinforcement offered by the philosophical Hermetica encouraged Ficino to exceed the boundaries of scholastic thought and the preceding dignitas hominis tradition.
Viittaa julkaisuun pysyvällä osoitteella http://urn.fi/URN:NBN:fi:jyu-201311272670
Puheenvuorot
Kaunokirjallisuus ja siitä käydyt keskustelut sukupuolihistorian lähteenä: Lectio praecursoria 13.6.2013
Juha Järvelä
Viittaa julkaisuun pysyvällä osoitteella http://urn.fi/URN:NBN:fi:jyu-201311272671
Kirja-arviot
"Siellä missä miehiä tehdään" – Mika Waltarin nuoruuden tuotanto ja sen vastaanotto sukupuolten rakentamisen paikkoina
Jaana Torninoja-Latola
Viittaa julkaisuun pysyvällä osoitteella http://urn.fi/URN:NBN:fi:jyu-201312032723
J@rgonia vol. 11, nro 21 (2013)
Puheenvuorot
In Search of Medieval Disability: Lectio praecursoria 16.2.2013
Jenni Kuuliala
Viittaa julkaisuun pysyvällä osoitteella http://urn.fi/URN:NBN:fi:jyu-201304261507
Imaginary Journeys: Lectio praecursoria 18.1.2013
Laura Hirvi
Viittaa julkaisuun pysyvällä osoitteella http://urn.fi/URN:NBN:fi:jyu-201304261508
Pieni matkakertomus Afrikasta
Outi Fingerroos
Viittaa julkaisuun pysyvällä osoitteella http://urn.fi/URN:NBN:fi:jyu-201304261509